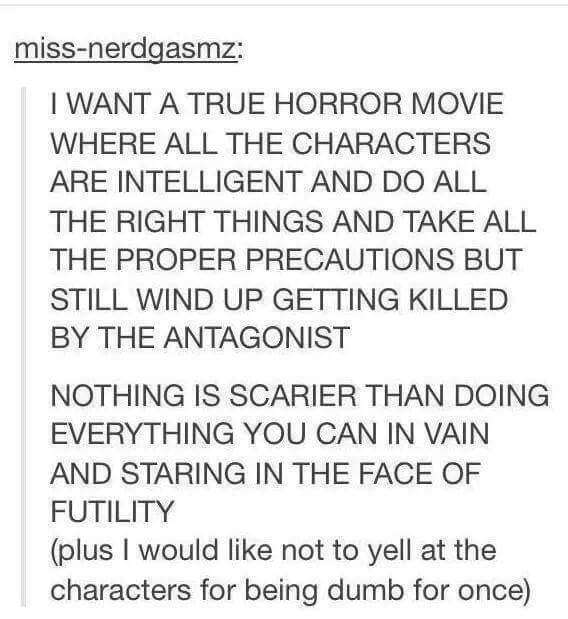 Recently, I rediscovered the Tweet to the right on Pinterest. It's one I pinned that has been getting saved a lot lately.
Yet again, it really spoke to me.  I've been trying my hand at writing fiction and getting my characters into trouble without having them look like complete ding bats is tough.
I returned a book to the library without finishing it because the character seemed to be at the mercy of the story.  The author needed X to happen so it happened.
I think of this at the Amityville Horror effect.  You go in the house, a disembodied voice says "get out," and instead you move in.  Really?  Cause there would have to be something awfully bad in the front yard for me to say inside.
How then do I put my character in a tough spot?  Here are a few ways:
Have two equally deserving characters competing for the same thing.  It could be for the blue ribbon at state or for a scholarship.  But there's only one.  Who is going to win?
There are no good choices, only bad choices.   You can write these situations in either fiction or nonfiction.  In Most Dangerous: Daniel Ellsberg and the Secret History of the Vietnam War by Steve Sheinkin, Ellsberg has to decide whether he will betray his friend or his country.  Put your character in a situation where something must be sacrificed either way. Think Hunger Games.
What other ways can you "write smart"?  Your character could make what seems like a good choice but it is based on misinformation.  Rebecca Roanhorse uses misinformation to great effect in Trail of Lightning.  Face it, her character is dealing with Coyote. You know the facts will be twisted but the trick is in figuring out how.
Writing smart isn't easy but it will keep your readers reading.  And isn't that our goal?
–SueBE