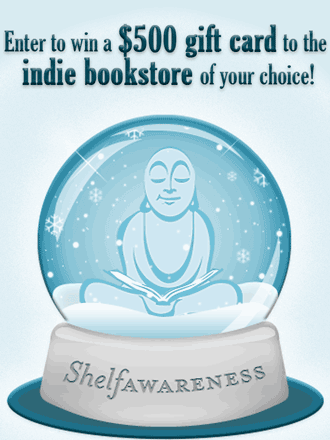 Who doesn't love free books?  Okay, there is probably someone, but my guess is that this person is not a writer.
Fort those of you who aren't familiar with Shelf Awareness (and you should be), they publish two newsletters about books.  Shelf Awareness for Readers is for general readers and helps subscribers 25 top-notch books each week and publishes news about books and authors. Shelf Awareness Pro is for booksellers and librarians.  It focuses on up-to-date information on publishing that they can use to sell and lend books effectively.
Click on the image to the left to enter to win a $500 gift card.  It can be used at any independent bookstore.  You will also be subscribed to these valuable newsletters.
What would I get with $500?  I'm not sure how many of the Harry Dresden books we don't have.  My husband and I both read this series.  Then there's Carla Killough McClafferty's Buried Lives, her latest nonfiction title.  And the rest of the FoxFire series.
I don't really think that the problem would be spending $500. But I am very slow about spending gift cards.  "If I get this, than I won't have the money for that."  Each time I go through it, you'd think I would never get to buy books again.
Am I the only writer with this problem?  I hope not but even if I am, enter to win the gift card. One of us needs to win!
–SueBE