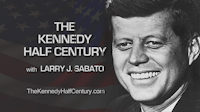 One of the things that I like to do is take online courses about topics that feature in my books. I've taken classes about evolution and dinosaurs, astro-biology and teaching through art and even the historiography of Thomas Jefferson.  Several 
months ago, I looked for a class on the history of JFK. Nope. Couldn't find a thing.
Fortunately, Coursera sends outs notifications.  "We think these classes might be of interest to you."  And guess what one of these classes is?
The Kennedy Half Century
. The class has only been active for 1 day and I'm two lectures in to week #1.
My favorite classes are open enrollment.  They can be started at any time.
Unfortunately, this one started on Monday.  So it doesn't matter that I'm working my tail off to finish the NASA book and that I have another piece of fiction that I'm working on and yet a third manuscript to discuss with the editor at an upcoming retreat.  It was start the class now or wait and hope that they reactivate it at a later date.
Fingers crossed that this class is as good as the Jefferson class.  They are both from the University of Virginia but with different faculty.
Take a look at
Coursera's listings
.  There's a really good looking class on civil rights and another one on the history of space flight.  Honestly, I could keep myself really busy with these things if I didn't also need to write!
–SueBE