Recently, I caved in and joined twitter.  Since I'm trying to find an agent, I've been following the site #MSWL.  If you're unfamiliar, that stands for "Manuscript Wish List," and they catalogue #MSWL posts from twitter.  Unfortunately, they've been going through a site re-design so no new posts for quite some time.  I finally had to actually to to twitter.
Perhaps the most popular #MSWL post at the moment is this: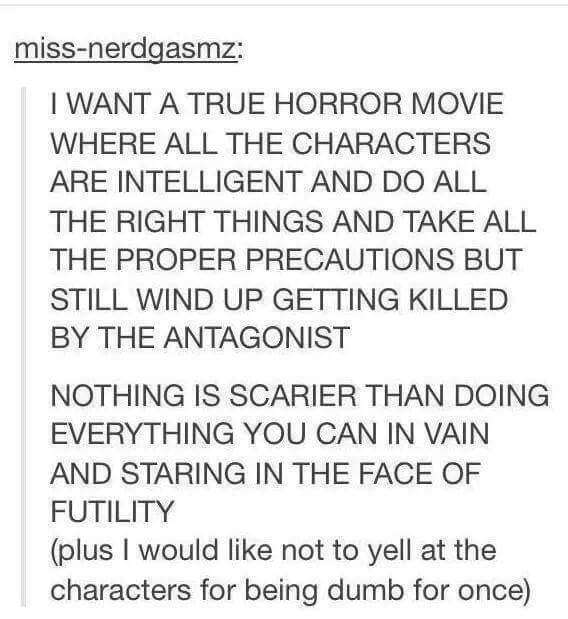 So many agents and editors have reposted this and commented on it.  Apparently, they have all received quantities of manuscripts in which the plot is driven by the main character's stupidity.
My own favorite exampled involves a story in which the main character is at home alone when someone knocks on the door.  Opening the door, she finds a bloody man holding a knife.  She ends up letting him inside because she couldn't leave her dog outside with someone who just might be a knife-wielding maniac. Seriously?  I took this book back to the library without reading another word.
Apparently editors and agents are sick of this kind of thing too. They'd like to see plots with smart characters.
How do you move the story forward if your characters are smart?  Here are a few possibilities:
There are no good choices, only bad choices.  I'm currently listening to Most Dangerous: Daniel Ellsberg and the Secret History of the Vietnam War by Steve Sheinkin.  About half way through the book, Ellsberg has to decide whether he will betray his friend or his country.  Put your character in a situation where there is no "winning" scenario.  Something must be sacrificed either way.
Or you could have two characters who are equally brilliant on opposite sides.  One of them is going to fail but who?
I'm sure there are other ways to "write smart" and it is up to us to find them.  Just think of the amazing stories we could create.  Me, I'm thinking about how differently Romeo and Juliet would have played out if they weren't both complete dunces.
–SueBE