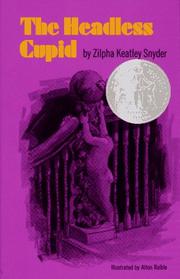 I'm sad to report that last week children's publishing lost a luminary with the death of Zilpha Keatley Snyder.  I never met Snyder but I remember, way back when, reading The Headless Cupid.  Snyder was the first author to thoroughly creep me out while also forcing me to keep turning the pages.  I had to know how the story ended!
Snyder ultimately published more than 40 books including historical fiction, contemporary YA, fantasy and science fiction.  Three times she earned a Newbery Honor for The Egypt Game (1967), The Headless Cupid (1971), and The Witches of Worm (1972).
Snyder's most recent novel was William's Midsummer Dreams about a young actor and a production of . . . I'm sure you can figure that part out!
If you've never sampled Snyder's books, pick one up at your local library.  With 40 plus books, including several in electronic formats, to choose, you will find something that suits your taste.
–SueBE